RIDING IN CARS WITH DOGS—BUCKLE UP, BE COOL & BE SAFE! 

BY DOROTHY WILLS-RAFTERY
For many travelers, life is indeed a highway, and what better way to see the sites along the road than with your furry best friend? However, before you embark upon an adventurous road trip—whether it is a
fun day at the beach
, a quick jaunt to the groomer's or nearest dog park, or for places unknown—keeping your dog safe in the car while traveling is a top priority so a fun time can behad for all!
While we see folks every day driving about town with their dogs loose in the back of pickup trucks, roaming free in the vehicle, or even sitting on laps with their heads out the window, these are not safe ways to travel and can cause disastrous emergency situations on the road. Please, never allow your dog to roam free in a moving vehicle!

A loose dog in a vehicle can:
1. Cause a distraction for the driver, and distractions can lead to accidents.
2. If there is an accident, s/he can go flying and become injured or worse. A frightening statistic shared by Be Smart Ride Safe®, is that a 60-pound dog can become a 2,700-pound projectile traveling at only 35 miles per hour. So, please, secure your pet!
3. If the vehicle stops short, or is involved in an accident, the dog could be injured, or even ejected from the vehicle, causing harm or death.
4. While rescue workers are helping accident victims, an uninjured loose dog can escape the vehicle and become aggressive (from fear), lost, or risk getting hit by passing cars.

What is the Best Way to "Buckle Up" Dogs in a Car?
According to the Center for Pet Safety (CPS), a non-profit safety science organization dedicated to consumer and companion animal safety around the world,  "We know from our research that all pet safety harnesses are not created equal. The Center for Pet Safety encourages pet parents to select a quality crash-tested harness to protect your pet and also protect your family if an accident occurs. CPS also warns against the use of long extension tethers and zipline style products during travel. Dogs should be reined in during car travel. Allowing pets to put their heads out of the car window is dangerous for many reasons. While your dog's ears flapping in the wind might be funny – road debris in his eyes can be painful and costly."
What About "Buckling Up" a Pet Carrier?
"While it is intuitive for most people to 'buckle up' their pet's carrier – DON'T! – unless the manufacturer provides you with crash test video to illustrate structural integrity," states CPS. "Using a seatbelt to secure a carrier can actually crush the carrier if you get into an accident. Instead – put the small carrier on the floor of the vehicle behind the front passenger or driver seat."
Not sure if your harness or crate has been crash-tested for safety? Check out the CPS website for more info at: https://www.centerforpetsafety.org/.
Other important pointers for your dog's health and safety, especially while on the go:
Be sure all traveling dogs have their microchip information

current at both the microchip company and the vet's office.
Check all tags—rabies and ID—that they have current

contact information

and are clearly legible.
Do a

thorough equipment check

to be sure there are no frays, tears, or broken/loose hardware on leashes, harnesses, and collars.
Have a fully-stocked automobile Pet First Aid Kit. 
Bring a

travel bowl and thermos or cooler

filled with fresh water.
Keep

snacks and food fresh

and cool in a cooler.
Be sure to

have a supply of earth-friendly poop bags

(and know proper disposal).

Have a great car cover

to help keep your dog from sliding, and to protect your vehicle seats from muddy paws! Check out 4Knines.com covers here!
Get Your Dog a "Driver's License!"
Years back, as part of the program Bark! BuckleUp!  I had "driver's licenses," issued for each of my five Siberian Huskies. These were actually canine passenger pet travel safety registration cards that resembled human drivers' licenses. Since the website is currently not active, you can easily create one of these cards yourself!
To make your own pet travel safety card:
1. Type up information to be listed on the card, including: pet's name, type, sex, breed,color, any specific markings, birthdate, weight, contact information for family, vet, and emergency contact, as well as any pertinent information, such as if your pet requires specific medical attention or has a medical condition. For example: Epileptic. Requires 2X DailyMedication.
2. Add your dog's current photo, and print out two copies in color ink on card stock.
3. Keep one card in your wallet by your license and one in the vehicle's glove compartment with the car's important papers.
Is It Too Hot To Take My Dog?
Such a great question to ask yourself each time you venture out in the warmer weather. While we (I hope) all know about the dangers of leaving a dog in a car, even for a few minutes with a window open in a car, maybe stop to consider if you really need to bring your dog with you. So many things can happen, including the air condition failing. "The inside of your parked car can rise 30degrees in 20 minutes," states MyDogIsCool.com. And, according to the National Highway Traffic Safety Association, "outside temperatures in the 60s can still cause a car temperature to rise well above 110 degrees (43 Celsius)."
If you must take your dog, MyDogIsCool.com recommends taking another human passenger along to keep your dog company and ensure its safety by being cool and that the vehicle's air conditioning stays working. Otherwise, please leave your beloved furkids home, where it is safe and cool.
Additionally, many states have laws protecting dogs left in hot cars, and also many states now allow concerned citizens to rescue a dog from such a situation. You can check out all the laws at the Animal Legal DefenseFund website.
For carloads of important information, and to download hot car flyers and posters, please visit the MyDogIsCool.com website.
Stay safe, and here's to many miles of fun adventures together out on the highway!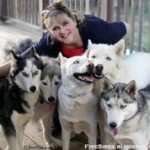 Dorothy Wills-Raftery
Dorothy Wills-Raftery is an award-winning photojournalist and author of EPIC Dog Tales: Heartfelt Stories About Amazing Dogs Living & Loving Life With Canine Epilepsy; the FiveSibes™ Tales children's books: What's Wrong With Gibson? Learning About K-9 Epilepsy and Getting Healthy With Harley: Learning About Health & Fitness; and Buddy, the Christmas Husky~Based On A True Holiday Miracle books (ArcticHouse Publishing), as well as the FiveSibes.com, an online encyclopedia for the Siberian Husky breed and Canine Epilepsy information, as well as her international award-winning FiveSibes blog, based on the lives of her five Siberian Huskies. Her work has also appeared in American Pet Magazine, Ruff Drafts, The Sled Dogger, and Hudson Valley Paw Print Magazine. Dorothy is the writer and host of "The Sibe Vibe" Dog Works Radio show.
Dorothy is a 9-time Dog Writers of America Association "Excellence" nominee, winning the prestigious Maxwell Medallion in 2017 and 2016 for her writing, photography, and design. Her book EPIC Dog Tales: Heartfelt Stories About Amazing Dogs Living & Loving Life With Canine Epilepsy received the 2018 Independent Press Award for "Excellence" in the Reference Book category and 2017 NYC Big Book Award for "Excellence" in the Animal/Pet book category. Dorothy was also named "Best Author" in 2015 & 2016 by Hudson Valley Magazine and all four books named "Best in Print" by American Pet Magazine, An official International Purple Day® for Epilepsy Ambassador since 2012 and a volunteer case manager for The Wally Foundation-Canine Epilepsy, Dorothy is the creator of the FiveSibes #LiveGibStrong K-9 Epilepsy Awareness campaign and partnered with The Anita Kaufmann Foundation for #Paws4Purple Project, both inspired by her own epileptic Husky, Gibson. In addition to her Siberian Huskies, Dorothy shares her home­ with her husband, daughter, son-in-law, and grandson. You can follow Dorothy and her FiveSibes on Facebook at FiveSibes: Siberian Husky K9 News & Reviews, on Google + , Twitter, and Instagram(@FiveSibesMom).