How to Remove Pet Odors When Potty Training

There are a lot of responsibilities that come with being a new puppy parent, but potty training is one of the most intimidating. 

No pet owner wants to deal with cleaning up messes all the time, which is why you'll need to invest time and effort to properly train your pooch. It's also important to remember that you will need to be patient if the process is going to be effective. Puppies don't learn new skills overnight!
A Few Tips for Puppy Potty Training


What is the best way to help your new dog learn to go outside? Here are a few key tips for potty training a new puppy:
Start young, but not too young

— If you start training too early, your puppy may not have the necessary bladder or bowel control to obey you. For this reason, the best time to begin training is usually when your puppy is

between 12 and 16 weeks old

.



Commit to the long haul

— Generally speaking,

it takes puppies four to six months to be fully potty trained

, although it may take some up to a year to consistently go outside. Accept this reality from the beginning and

you won't be unnecessarily discouraged by slow progress

.



Be consistent

— One of the biggest keys to

success in potty training

is consistency.

Get into a routine

of always taking your dog outside at the same times, such as first thing in the morning, after a nap and after a meal. You may also want to practice taking your pup outside every half hour or hour, especially in the beginning. It's also important to take your puppy to the same place every time and to verbally affirm his or her success.



Practice a potty cue

— Because you want to get your puppy to the point where he or she can

communicate the need

to go out, practice a potty cue with your dog. This might be going to the door, ringing a bell or barking, but whatever it is,

help your pet understand

that this behavior always results in going outside to go potty.
How to Clean Up Puppy Mistakes


While proper potty training is important, that doesn't mean there won't be accidents. In fact, you can count on them! Set your expectations accordingly and be ready to respond when one occurs. As much as possible, train your dog away from flooring that could be damaged or will be difficult to clean, such as hardwood and carpet. Butwhenstains do occur, know what to do.
Here are a few tips to keep in mind:
Soaking up moisture is a great first step

— To remove as much liquid as possible from your flooring, blot the area with a towel until it's almost dry. This preps the area for better cleaning.



The cleaning product you use matters

— Not all cleaners are created equal. For best results, use an

enzyme-based, odor-neutralizing product

.



You may need professional help

— While you can successfully clean many stains, there are some that will require professional attention. In these cases, call a

carpet cleaning company

that can eradicate both stains and the accompanying odor.
To learn more about removing pet stains and odors from your carpeting, take a look at the attached resource. It provides a step-by-step guide to help you eliminate the telltale signs of those frustrating pet accidents.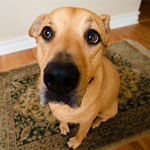 Vytas Macius

Vytas Macius is the owner of Carpet Cleaning Group, a family-owned business that provides residential and commercial floor cleaning services all over Chicago land. Carpet Cleaning Group is always ready to go the extra mile to make sure customers are 100 percent satisfied with the services provided.

:|zpendofcontent|: