How to Safely Include Your Dog on Thanksgiving
Thanksgiving is a wonderful time to have friends and family around, including your dog! However, it is also important to be cautious this time of the year of some potential health risks for your dogs.

Here are some tips to remember this festive season.
What is safe for dogs to eat on Thanksgiving?
Thanksgiving usually means a feast and a lot of these foods are actually toxic to our pups! 
Many dog owners often ask, "can I give my dog Thanksgiving turkey?"
Turkey, the most popular food on Thanksgiving, has some potential risks to our pups. Its skin is actually super high in fat and holds all of the seasoning and butter (although delicious to us humans, this part of the turkey is toxic to pets).
Cooked bones are also very dangerous. You may think you are giving your dog a special treat to enjoy, but the cooked bones actually splinter and can get stuck to your dog's throat which is dangerous and can be fatal.
Dessert is common sense for most, but it's easy to forget that you left a pie on the counter and your pup jumps up and gets it. Just try to keep all holiday foods away from the edge of the counter, and high up!
So, what can I make my dog for Thanksgiving? 100% Pumpkin Puree is great for dogs – offer a spoonful for a nice treat, but no sugar or any additives!
How do you keep your dog safe and comfortable when you have a lot of guests?
During the holidays, people are constantly coming in and out of the doors. Some are friends and family, some neighbors.
Your dogs may be scared of the new people or not used to numbers. If you know you have a large group coming and your dog will feel distressed, it's best to put your dog in their crate or a room they are comfortable in until things return back to normal.
Using the 4Knines Dog Mat inside the crate provides your dog with an extra comfortable resting place.
Even if your dog has no issues with company, make sure you have eyes on him at all times when people are coming in and out as to not have any runaways! 

If you can't guarantee you'll have all hands on deck, keep your pup sectioned off to one area of the house that isn't near the door. You can give his favorite toys and have him lie on his bed to make him more comfortable. 
Your dog might not have the opportunity to sneak away and relieve himself while you're busy with the guests. Using the 4Knines Dog Bed Cover protects your dog's bed from accidents and other wet messes. 
How to Keep Your Dog Safe Around Holiday Decorations

Holiday decorations made of plastic, tinsel or foil can be toxic to your pets. Those sparkling, dangling decorations can be too hard for your dog to resist. 
To prevent potential injury, you can teach your dog to stay away from these objects or you can arrange the ornaments securely out of your dog's reach.
We, at 4Knines, hope you all have a wonderful Thanksgiving with your family, friends and furkids. We hope these tips will help you have a safe and stress-free holiday with your loved ones.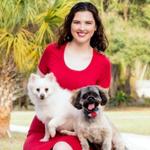 Shelby Gottschalk
My name is Shelby Gottschalk and I am the momma bear! I've been obsessed with animals for as long as I can remember. I've worked in vet offices, I work doing pet sitting, so naturally, animal care was something I wanted to know more about. I decided to do research about holistic medicine/treatment and ended up getting a certificate in Holistic Pet Care. This led me to be curious about pet nutrition – what is in that dried kibble we are feeding our pets? The answers made me so sad after seeing so many vets that I worked with sell these brands that I knew were doing more harm than good. It made me evaluate my own dog's food and there was no going back. My dogs are my kids, and I believe nutrition can prevent disease and save lives. Join me on my journey with raw food, trying new things and all things dog.