Purple Day®: Highlighting K9 Epilepsy Education & Clinical Trials
It's March, and that means it is time to
get your purple on
to
help shine a light on
Epilepsy
, and honor those who live with it—
both humans and canines
—as well as their families.
You may be asking yourself,
"Why March?"
March 26th is the International Purple Day® for Epilepsy
 originally created by Cassidy Megan in 2008, with the Epilepsy Association of Nova Scotia. The Anita Kaufmann Foundation (AKF), a nonprofit organization based in New York and global sponsor of Purple Day, has also launched Purple Day Every Day, because
Epilepsy awareness should be every single day
.
"Purple (lavender) is the international color representing epilepsy awareness and we want everyone across the world to know."
 ~The Anita Kaufmann Foundation
The
AKF helps to connect people with awareness initiatives, important resources, and various events around the world
, as well as also leading the way in
sharing educational information on Epilepsy in dogs
via their
#Paws4Purple
 partnership with this author's
FiveSibes™ #LiveGibStrong K-9 Epilepsy Awareness and Educational Campaign
launched one year ago in an effort to help others who find themselves on a journey with a
dog that has seizures
 to
1) know they are not alone
, and
2) to offer informational resources to help them navigate the unpredictable waters of Canine Epilepsy
.
Today, there are a variety of treatments for
Canine Epilepsy
ranging from the traditional to holistic and alternative.
The key is to do research on Epilepsy, seizures, medications, natural treatments, nutrition, and triggers so you can have an informed discussion with your vet
regarding the best possible course of treatment for your Epi-dog.
Canine Epilepsy Clinical Trials
There are also
clinical trials to enroll your Epi-dog in
. Currently, a study led by Dr. Karen Muñana of the North Carolina State University College of Veterinary Medicine (NCSUCVM), Department of Clinical Sciences and Companion Animal Epilepsy has begun recruitment for their study,
"Is Canine Epilepsy Associated with Gut Dysbiosis"
in a project funded by the American Kennel Club Canine Health Foundation.
An Invitation from NCSUCVM for Epi-Dogs to Participate From Home
The program recruitment, according to Julie Nettifee, NVT, BS, VTS (Neurology), is to
"determine whether dogs with idiopathic Epilepsy have alterations in their gut microbial population.

Our study team is looking for households with an epileptic dog and an unaffected dog to compare the bacterial populations within their gastrointestinal tract

."
Fecal samples from both dogs will need to be collected and sent to NCSUCVM via pre-paid shipping.
Study Benefits
(FREE for participants)
Free fecal floatation

to examine for parasites

All study materials

, including shipping, will be covered by the study
Participation will provide

additional information about epilepsy

that may help your dog or other animals in the future
Inclusion Criteria
Households must have

one dog with Epilepsy and one unaffected dog

Epileptic dog must have

presumptive diagnosis of Idiopathic Epilepsy

based on seizure onset between six months and six years of age, and not be on seizure medication or be on phenobarbital alone

Both dogs must not be on any other medications

aside from monthly preventatives
Dogs must be

fed the same diet



How to Enroll Your Epi-Dogs in the Clinical Trial
Enrollment period r
uns through December 31, 2021
. To enroll your dogs, or for more information and/or a flyer on the recruitment,
email Julie Nettifee
at: janettif@ncsu.edu.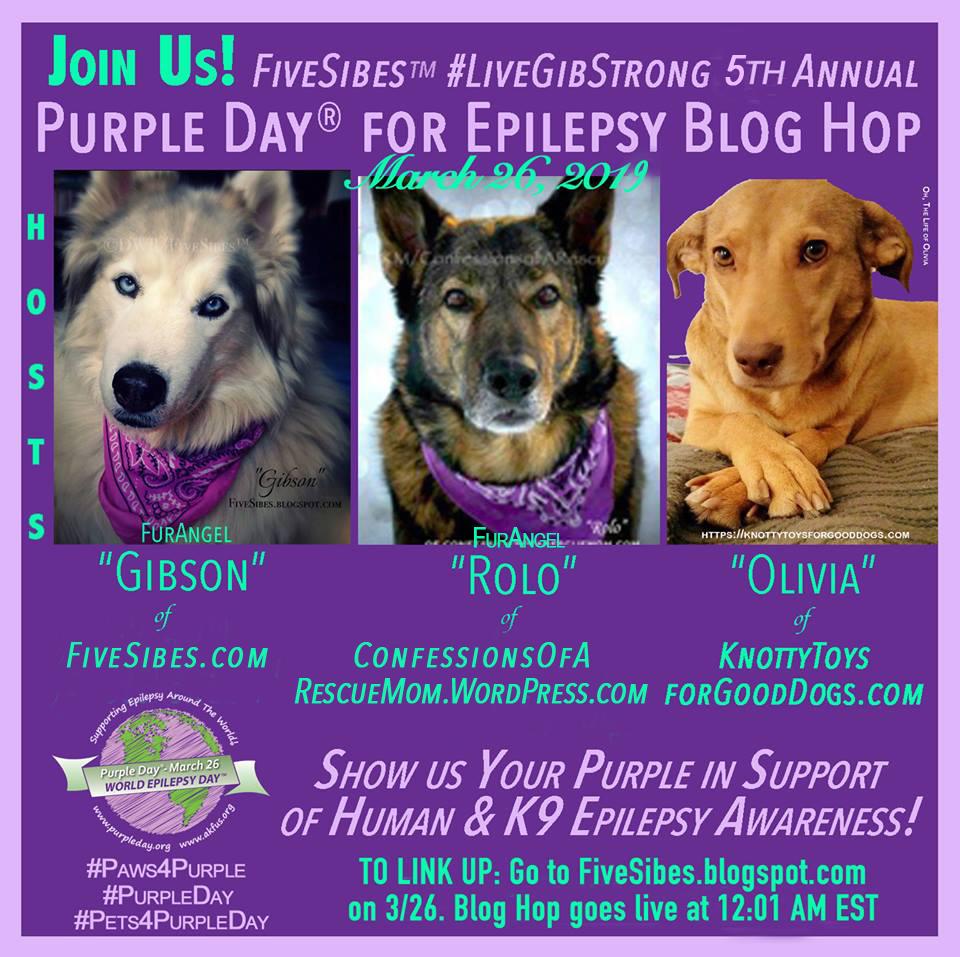 Connect With Other Epi-Dog Parents
For support, information, and networking with other Epi-dog families,
check out the Canine Epilepsy Resources, home of the Epil-K9 list
! Simply visit the website at Canine-Epilepsy.com and
sign up to join the Email list
! Also, join in our
5th Annual FiveSibes™ #LiveGibStrong Purple Day® Blog Hop
to link up with other Epilepsy advocates from around the globe! Visit FiveSibes.blogspot.com on March 26th to join in.
On this
March 26th
, when asked why are you wearing purple, talk all about the amazing dogs living and loving life with Canine Epilepsy!
Dorothy Wills-Raftery
Dorothy Wills-Raftery is an award-winning photojournalist and author of 
EPIC Dog Tales: Heartfelt Stories About Amazing Dogs Living & Loving Life With Canine Epilepsy
; the FiveSibes™ Tales children's books:
What's Wrong With Gibson? Learning About K-9 Epilepsy 
and
 Getting Healthy With Harley: Learning About Health & Fitness
; and 
Buddy, the Christmas Husky~Based On A True Holiday Miracle books
(
ArcticHouse Publishing
), as well as the 
FiveSibes.com
, an online encyclopedia for the Siberian Husky breed and Canine Epilepsy information, as well as her international award-winning 
FiveSibes blog
, based on the lives of her five Siberian Huskies. Her work has also appeared in American Pet Magazine, Ruff Drafts, The Sled Dogger, and Hudson Valley Paw Print Magazine. Dorothy is the writer and host of
"The Sibe Vibe" Dog Works Radio show
.
Dorothy is a 9-time Dog Writers of America Association "Excellence" nominee, winning the prestigious Maxwell Medallion in 2017 and 2016 for her writing, photography, and design. Her book
EPIC Dog Tales: Heartfelt Stories About Amazing Dogs Living & Loving Life With Canine Epilepsy
received the 2018 Independent Press Award for "Excellence" in the Reference Book category and 2017 NYC Big Book Award for "Excellence" in the Animal/Pet book category. Dorothy was also named "Best Author" in 2015 & 2016 by
Hudson Valley Magazine 
and all four books named "Best in Print" by 
American Pet Magazine
, An official International Purple Day® for Epilepsy Ambassador since 2012 and a volunteer case manager for The Wally Foundation-Canine Epilepsy, Dorothy is the creator of the FiveSibes
#LiveGibStrong K-9 Epilepsy Awareness
 campaign and partnered with The Anita Kaufmann Foundation for
#Paws4Purple Project
, both inspired by her own epileptic Husky, Gibson. In addition to her Siberian Huskies, Dorothy shares her home­ with her husband, daughter, son-in-law, and grandson. You can follow Dorothy and her FiveSibes on Facebook at 
FiveSibes: Siberian Husky K9 News & Reviews
, on 
Google
+ 
, 
Twitter
, and 
Instagram
(@FiveSibesMom).