Meeting Up at the Dog Park

Whether you've moved to a new area, or are traveling with your dog on vacation and visiting a new town, you probably are asking yourself, where is the local dog park?

Maybe you like to hike or camp with your dog, but are not sure of which are pet safe and dog-friendly trails and sites. Or, maybe you would just like to meet other doggy parents and give yourself and your dog a chance to simply socialize. The big question is—how can you find where to do this?
Today, dog parks and pet-friendly parks are popping up in cities and towns all over, giving dogs who may not usually have the opportunity to get out and stretch, to have a chance to have some fun, make new doggy friends, and have a safe space to run free and just be, well, a dog!
According to the American Kennel Club, there are many benefits to a dog park, including:
1. Allowing Dogs to Safely Exercise

Dog parks are fenced in and offer dogs the opportunity to be off-leash and have the safe freedom to run, play, and have fun in an enclosed environment.
2. Dogs Can Safely Socialize
Under the watchful eye of their guardians, dogs can play without the threat of danger, such as running away, being taken, or dodging out into a street with traffic.
3. Dog Parents Can Socialize With People of Common Interests

Dog parents can share stories, tips, and be supportive of each other while bonding (and sharing some laughs) over their beloved dogs.
4. Promotes Responsible Dog Ownership

A dog park gives dogs a great place to run off-leash without violating leash laws or infringing on the space and/or safety of passersby, running up to and frightening neighborhood children, running after joggers, etc.
When visiting a dog park, it is important to be careful and considerate and know proper dog park etiquette, so all dogs and their humans can enjoy the playtime. This would include:
Take note of the

park or group rules

, and respect them.

Always be sure your

dog's vaccinations are up-to-date

and that your dog is in good health.
Always

keep a watch on your dog

, and be ready to step in and head off any potential problems.
If your

dog is aggressive and cannot be controlled

, don't bring him/her to the dog park.
Always

bring poop bags and clean up

after your dog!
Bring a water

dish/portable water bottle and fresh, cool water

.

Keep treats and food out of the dog park

! The park is for play! Not all dogs like to share and when food is around, it can quickly become a hostile situation.

Be friendly

!
Taking photos of your pet in action is always fun, just be sure to ask the other dogs' families if it is okay to snap their pet as well.
Not sure how to find a dog park, or even a dog-friendly beach, campground, or playground to go to with your dog? Check out the various iOS apps, including the 2019 Webby Honoree, BringFido! BringFido (both app and website) not only lists worldwide dog-friendly parks and beaches by state, but it also gives listings and reviews of many other dog-friendly places to visit, including hotels, restaurants, activities, events, and more! There are also some terrific blogs written by traveling pet bloggers who write about their experiences at dog parks, dog-friendly parks, and dog-friendly places.
For tips about traveling with your dog, dog-friendly places to visit, and much more, here are just a few websites and blogs for traveling dog families to check out:
Another way to look for like-minded dog lovers and a dog meet-ups at parks and other destinations in your local area, or an area you are visiting, is by checking out MeetUp.com. Go to their "Pets" category and do a search for "dog meet-ups" or "dog parks" with a desired mile radius of your location to find dog-friendly places near you.
Are you a Facebook fan? You can type in key words in the Facebook search bar, such as "dog parks," "dog meet-ups," or even breed-specific groups, then click on the "Groups" tab, and voila! There are tons of listings to search through right at your fingertips!
As a cautionary reminder, please keep yourself and your pet safe by doing a little research first to be sure the group you located online is legit by checking out the member list to see if you can verify its authenticity from a member you may already know, or talk to a licensed and/or recognized canine group, vet, or a town official. If possible, take a drive to the dog park or meet-up place to visually check it out ahead of time. Once verified, you and your dog can enjoy a happy, healthy, and safe outing together with some new friends—canine and human!
And don't forget to get a 4Knines seat cover to protect your vehicle from those wet, muddy pawprints! Check out my 4Knines affiliate link here for a cover to fit your vehicle and your dog's needs, and enjoy those happy tails on the trails!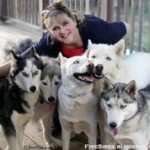 Dorothy Wills-Raftery
Dorothy Wills-Raftery is an award-winning photojournalist and author of 
EPIC Dog Tales: Heartfelt Stories About Amazing Dogs Living & Loving Life With Canine Epilepsy
; the FiveSibes™ Tales children's books:
What's Wrong With Gibson? Learning About K-9 Epilepsy 
and
 Getting Healthy With Harley: Learning About Health & Fitness
; and 
Buddy, the Christmas Husky~Based On A True Holiday Miracle books
(
ArcticHouse Publishing
), as well as the 
FiveSibes.com
, an online encyclopedia for the Siberian Husky breed and Canine Epilepsy information, as well as her international award-winning 
FiveSibes blog
, based on the lives of her five Siberian Huskies. Her work has also appeared in American Pet Magazine, Ruff Drafts, The Sled Dogger, and Hudson Valley Paw Print Magazine. Dorothy is the writer and host of
"The Sibe Vibe" Dog Works Radio show
.
Dorothy is a 9-time Dog Writers of America Association "Excellence" nominee, winning the prestigious Maxwell Medallion in 2017 and 2016 for her writing, photography, and design. Her book
EPIC Dog Tales: Heartfelt Stories About Amazing Dogs Living & Loving Life With Canine Epilepsy
received the 2018 Independent Press Award for "Excellence" in the Reference Book category and 2017 NYC Big Book Award for "Excellence" in the Animal/Pet book category. Dorothy was also named "Best Author" in 2015 & 2016 by
Hudson Valley Magazine 
and all four books named "Best in Print" by 
American Pet Magazine
, An official International Purple Day® for Epilepsy Ambassador since 2012 and a volunteer case manager for The Wally Foundation-Canine Epilepsy, Dorothy is the creator of the FiveSibes
#LiveGibStrong K-9 Epilepsy Awareness
 campaign and partnered with The Anita Kaufmann Foundation for
#Paws4Purple Project
, both inspired by her own epileptic Husky, Gibson. In addition to her Siberian Huskies, Dorothy shares her home­ with her husband, daughter, son-in-law, and grandson. You can follow Dorothy and her FiveSibes on Facebook at 
FiveSibes: Siberian Husky K9 News & Reviews
, on 
Google
+ 
, 
Twitter
, and 
Instagram
(@FiveSibesMom).