HOW TO SAFELY TRAVEL WITH YOUR DOG IN THE CAR 

BY JANE BOWERS 
Nice weather has arrived and some of us may be planning trips with our dogs. Often this a road trip and part of the trip preparation should include ensuring the travel is as safe as possible for the dog and the owner.
Some tips for safe travel are to decide how you are going to secure your dog in the vehicle. Pets and passengers can get hurt or killed if a dog is unrestrained and distracts the driver. A survey by the American Automobile Association showed that driving with an unrestrained dog is common. They reported that over 80% of dog owners drive with their dog in the car and 84% of these drivers do not restrain their dogs in the vehicle!

In addition, the Triple AAA Foundation for Safety found that a driver looking away from the road for even one second doubles the risk of a crash.
If the dog is riding in the front seat they can be killed if the airbag is deployed so the back seat is safer for the dog. An unrestrained dog can bolt out of the vehicle when the door is opened and can panic and go missing, be hit by another vehicle, or cause a crash when someone swerves to avoid the now loose dog. In some areas, having an unrestrained dog invalidates the car insurance.
To avoid the hazards associated with having an unrestrained dog in a vehicle, choose a restraint method that works for well you and your dog.
A seatbelt harness, tether or crate will restrain the dog when traveling. There are several types of tethers available. If there are also any chance the dog will chew through a seatbelt or tether, opt for a crate or use a steel cable for tethering. If using a crate, be sure your dog has been conditioned to the crate and loves to use it.
The harness, tether and crate should withstand a crash and an independent volunteer organization called "Center for Pet Safety" tests crates and harnesses and publishes results online.
If your dog gets carsick or needs help with being comfortable in the vehicle, enlist the help of a trainer, behavioral consultant and /or a vet for treatment. To protect your car from any unexpected bouts of car sickness, as well as mud, fir, and nails, make sure to install a 4Knines car seat cover. For dogs who tend to be triggered into barking and lunging in the car, a calming cap is a good short-term resolution. It works by reducing the visual stimulus for the do resulting in the dog relaxing in the vehicle. I have had very good results when I have used this with a variety of reactive dogs with good results.
Make sure your dog wears identification. Microchips are inexpensive, easily obtained through your vet and many shelters and work well as they can't come loose. Many impounds, shelters and veterinary offices will scan for a microchip when a dog is found. Be sure that owner contact information with the microchip company is up to date. There are also tags that can be scanned by a cellphone for owner information as well as cell phone apps that allow you to locate your dog if your dog is wearing a tracking device.
Keep up to date photos of your dog so you can post them on social media and create posters if your dog goes missing. Collar tags also make it easy for someone to reach the owner if the information is current and visible. ID tags are easily available, and I use the larger tags so I can have bigger lettering on the tags. This makes it easier for anyone finding your dog to read it. I simply put "home" and my cell number on one side and my address on the reverse of the tag. Municipal dog tags allow animal control officers to reach a dog's owner when the dog is found.
Dogs should never be transported loose in the bed of a truck. They are at risk of getting debris into their eyes, bolting from the bed and hanging themselves if leashed to the bed of the truck, or getting hit in traffic. In many places, it is also against the law. In BC, Canada, Section 72 of the MotorVehicle Act prohibits the transport of an unsecured pet in the back of a pick-up truck (www.bclaws.ca n.d.).
In unfamiliar off leash locations, keep dogs close or leashed until you know the area as there could be unknown hazards. Sadly, on Vancouver Island, tragedy struck when an adolescent dog was running off leash in an area unfamiliar to herself and her owners and was killed when she plunged over the edge of a 110' drop. There were no signs posted to warn people of the cliff and it was not obvious to the owners nor the dog that there was this hazard.
Bring your dog's food, water, toys and a dog bed too. Watch out for the temperatures in the vehicle and when walking your dog. They quickly succumb to heat exhaustion so don't leave the dog in the car in warm weather and limit exercise to cool times during the day to avoid heat exhaustion and burn to the paws from hot pavement.
I recommend dog owners keep current on pet first-aid - these courses readily available all over.
Lastly, make sure your vehicle is prepared for a road trip.
Have fun traveling with your dog!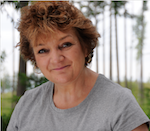 Jane Bowers, B.A., CABC, CPDT-KA
Jane Bowers has been training dogs for over two decades. She teaches people to train their dogs in group and private training courses and has a keen interest in assisting dogs with behavioral issues. Her company is Dogs of Distinction Canine Training Inc. Jane has a monthly newspaper column on dog related topics and is a former host of a live call in TV show on animals. She is a strong advocate for force free and humane training methods for all animals. Jane has a degree in psychology and is certified as a dog trainer through the Certification Council of Professional Pet Dog Trainers and as a behaviour consultant through the International Association of Behavior Consultants and through the Association of Animal Behavior Professionals. 
These organizations require a minimum number of continuing education units be obtained to retain certification. She is also a professional member of "The Pet Professional Guild," an organization committed to force-free training of animals and the "Association of Professional Dog Trainers," a professional organization of individual trainers who are committed to being better trainers through education. Jane is the content creator of the online course "Assessing and Interpreting Dog Behaviour," which is a course for law enforcement personnel who meet unfamiliar dogs in the course of their duties. She is the author of "Perfect Puppy Parenting," a guide to raising a happy, confident, well-behaved dog. Jane spent 17 years working for Customs Border Services and in joint teams with US Homeland Security and the RCMP. She spent a further 8 years working as an Animal Control Officer and Bylaw Enforcement Officer. Jane lives on a small farm with dogs, sheep, donkeys, and chickens. The dogs each came from situations that prevented them from living in their original homes. The dogs range in size and age and with the dog training and behavioral work, whether it's participating in the development of an online training course, working with a client's dog or tracking a lost pet or animal.