April 2019 Charity Spotlight: Pawsitive Love Foundation

PAWSITIVE LOVE FOUNDATION'S MISSION STATEMENT
To provide properly trained Service Dogs and handler training that will bring a measure of freedom through healing, helping, and support to Veterans and Children.
MISSION STATUS: ACTIVE
The mission is not complete until all invisible wounds are healed.
PAWSITIVE LOVE FOUNDATION (PLF) exists to provide specially trained service dogs to two very special groups of people.
Veterans dealing with

Post Traumatic Stress Disorder (PTSD), Military Sexual Trauma (MST), Traumatic Brain Injuries (TBI), and/or Mobility Issues

Children with

Autism or Epilepsy
HELPING VETERANS
Twenty-two veterans commit suicide every day - 154 per week, 8000 per year. This shocking statistic is 15% higher than suicides in the non-veteran community. PLF is working to reduce these numbers and restore hope through its campaign STOP22.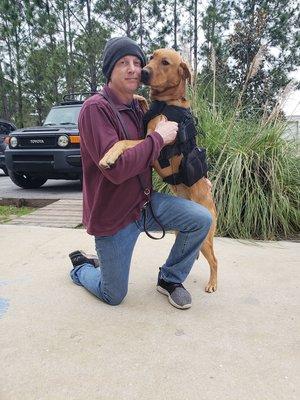 Meet "Trav" and PLF-K9 Marshall
As a combat cameraman, Retired US Navy Senior Chief Stan Travioli served in thousands of missions, including 16 combat deployments. "Trav" suffered multiple combat injuries including TBI, hip damage, spinal injuries, PTS, hearing loss, and other issues. Defending freedom for 26 years took its toll on Trav. Most days, he stayed in his home, avoided people, struggled with personal relationships, and was in tremendous physical pain. Doctors, medicine, and family helped, but when they reached their limits, PLF created a new road for Trav.
PLF-K9 Marshall was trained specifically for Trav. Marshall is much more than a companion or emotional support dog. Marshall helps Trav stand up, climb stairs, and other tasks Trav has difficulty performing. Today, with Marshall by his side, Trav is free to fully experience the world around him.
HELPING CHILDREN
In 2018, the CDC reported 1 in 59 children were diagnosed with an autism spectrum disorder (ASD). Depending on where the child falls on the spectrum, caring for a child with autism can be a full-time job, straining families mentally and physically. Among other tasks, a highly-trained Autism Support Dog can help develop communication, calm tantrums, provide a watchful eye, and dissuade repetitive behaviors. A PLF-K9 helps to provide freedom from the frustrations experienced by a child affected by ASD.
Living with epilepsy can present many practical limitations - attending school, social activities, employment, driving, and independent living. PLF trains service dogs to perform tasks that will afford independence and help families overcome many of these challenges. Service dogs are trained to warn of the onset of a seizure and to keep a watchful eye over the child, never leaving a child vulnerable during or after a seizure.
Meet Hailey and PLF-K9 Finley
At 17 years old, Hailey was having two or more grand mal seizures every week and was unable to attend school because of her seizure disorder. Thanks to PLF-K9 Finley, Hailey is now thriving at a public high school and living life like a normal teenager. If Hailey has a seizure, Finley is trained to alert others about the need for assistance and to never leave Hailey's side.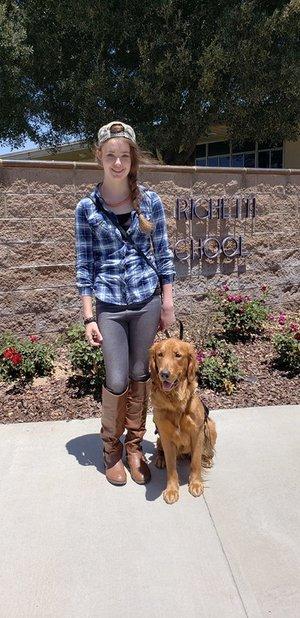 Pawsitive Love Foundation is a non-profit organization that relies on the generosity of donors to continue providing military personnel and children with uniquely trained service dogs. The cost of training each service dog is approximately $10,000. Please consider joining 4Knines in supporting PLF's mission by making a donation, joining their team, or sponsoring one of their ongoing campaigns.