December 2022 Charity Spotlight
Summit Assistance Dogs
Summit Assistance Dogs was founded in 2000 by Sue Meinzinger to help meet the overwhelming demand for skilled service dogs. A graduate of the Assistance Dog Institute in Santa Rosa, CA, Sue worked with a Golden Retriever named Eddy. When a minor health issue prevented Eddy from completing the service dog program, Sue adopted her, and together they founded Summit Assistance Dogs. Eddy served as Summit's chief ambassador and demonstration dog until the fall of 2013, when she crossed the Rainbow Bridge.
The mission of Summit Assistance Dogs is to create life-changing partnerships by providing highly-skilled mobility service dogs for people living with disabilities in the Pacific Northwest. More than 55 million Americans live with various disabilities, but the national average wait time to receive a service dog is two to five years. Sue and her team are committed to reducing wait times for their applicants.
The Summit Assistance Dogs team believes all people and animals deserve to reach their highest potential, and this is often best achieved in partnership with one another. They envision a day when every qualified applicant will be able to receive a life-changing service dog within one year of applying.
By assisting with tasks such as retrieving items, opening and closing doors, and turning switches on and off, well-trained assistance dogs help their partners live with greater independence and confidence. These beloved companions also help diminish depression, anxiety, and loneliness.
These testimonials demonstrate the difference Summit Assistance Dogs is making in the lives of people living with disabilities.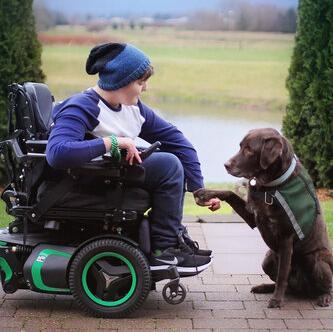 Taysen and Jackson
(From Taysen's Mom) As a mom, it was great to see how Jackson has been as an ice breaker for Taysen, especially when Taysen was younger. Sometimes children were afraid of him since he used a wheelchair, and they wouldn't approach him. When Jackson was with us, everyone wanted to say hello to him and pet him, which led to conversations with Taysen. This allowed people to see that Taysen was a typical kid, who just used a wheelchair.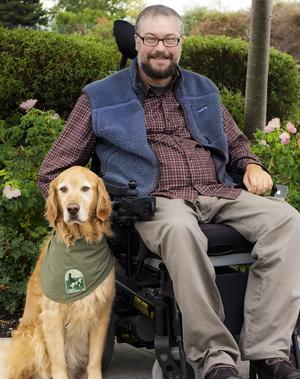 Eric and Titus
Titus is so friendly and warm that his presence breaks down barriers, opening the door to much appreciated normalcy in a life overshadowed by awkwardness and disability. I am so incredibly grateful to have Titus and can't imagine living without him. He is quite literally the best thing that has ever happened to me, and I have the great people at Summit to thank for that!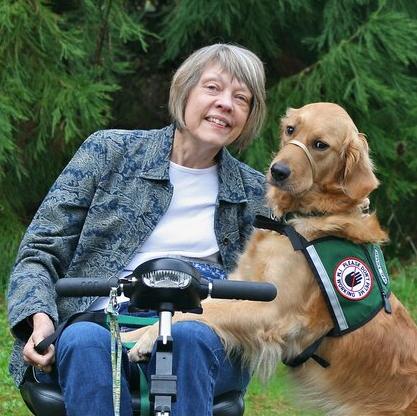 Karen and Narnia
Narnia has shown me that trust is what allows us to give ourselves freely to each other. She's eager to take on tasks too hard or risky for me, as she accompanies me everywhere. Though neither of us is perfect, together we make each other whole. Narnia has also given me a new purpose. 
4Knines strives to make a difference in the dog (and human) world by supporting excellent nonprofits like Summit Assistance Dogs with monetary and product donations. We also shine a light on the work of various animal advocacy groups with our monthly spotlight articles. We hope you will consider supporting the work of Summit Assistance Dogs as well. There are lots of ways to help!