How to Prevent Your Dog from Running Away

Dogs love jumping, playing, romping, and roaming free. There is nothing as beautiful as watching my own dog playing in an open field freely. But, there are also a few considerations with situations such as an open field.

You always have to keep an eye on your dog to prevent them from running away. You may think your pet is trained well enough and loves you so it will never leave you. Chances are, though, you're wrong.
I've lost my Sheltie multiple times. She is well trained, loves my family, stays on a leash, etc. Even with all of that, she's gotten lost.
Why do dogs run away?
Running away is like a "self-rewarding behavior" among dogs. There are plenty of reasons for running away from home. For example:
When it

notices another dog

.
On a

quest for snacks or food

.
If it

fears something in your house

like the generator or the vacuum cleaner.
In need of

reproductive drive

.
When it

notices something interesting outside

like a ball and wants to play with it.
When it finds an

easy escape route from home

.
To

raid your neighbor's trash

in search of "treasures" etc.
Overall, it's a natural behavior for dogs to run away from home, and the freedom is a good temptation for them.
How to prevent your dog from running away
There are several steps that you can follow to prevent your dog from running away. For example:
1.  Redesign your home:
The design of your home could contribute to your dog running away. Lack of a pet-friendly sleeping place, playing zone, eating place or other facts might lead your dog to run off from your home.
2.  Reward for returning home:
Rewarding your dog whenever it returns home might be the best way to keep your dog from running away. You may treat him with his favorite food, whenever he returns home.
3.  Entertain your dog:
Lack of interaction or entertainment is a major issue that could cause your dog to run away. Primarily, you may buy some good-looking, interesting, and interactive toys for your dog. These toys will help to overcome the boredom of your furry pal.
4.  Evaluate your dog's needs:
Different dog breeds have different habits. Some may like to lie around while others like to roam all the time. That's why you should know the basic nature of your dog, and take the needs of different breeds into consideration before adding a four-legged friend to your home.
Always make sure you've fulfilled your dog's primary needs. For example, if you own a couple of Huskies, you can't keep them in your home all day with nothing to do. Huskies are quite independent and love to play, you should provide a space to play and plenty of stimulation.
5.  Seek professional help:
If you feel like you've tried it all and nothing is working, consider seeking professional help. Professionals will help you address the cause for your dog's habit of getting loose, as well as how to fix and prevent it.
Final words:
Losing your pet is one of the worst things that can happen as a pet owner, however, the provided tips can help reduce the chance of it happening. Always make sure your dog's tags are up to date and you have current photos of them in the event that they do escape so that you can be reunited quickly.
Got more tips? Let us know in the comments below!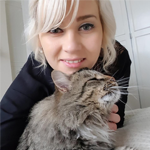 Lauretta Williams

Lauretta Williams is a web-addicted blogger. She loves spending her time listening to music, playing with her dog and writing blogs from her computer. We all want our dog not to run from home. But sometimes, they still might get lost. Don't worry, we have your back. Report your lost with PawMaw we can help you find your missing pet.