Choosing a Doggy Daycare That's Right for Your Dog

Dogs love to socialize and make friends with other dogs, whether they are out on walks, romping in the dog park, or hanging out at doggy daycare. Doggy daycare centers began trending in the 1990s under the same concept that holds true for childcare centers—to offer people a safe and interactive place for their babies to be, whether for a few hours, the day, or overnight. But, how can dog parents be sure their furry best friends will be safe? 

Shop Around & Tour Facility
Barbara Drury, owner of Manilow's Canine Playground in Devens, Massachusetts welcomes between 25 and 30 dogs each day to her center, where she and her staff and volunteers engage the dogs in activities, feeding, and even nap time! Drury shares what she believes is the most important thing to look for when searching for doggy daycare centers. "The most important thing is to 'shop around.' Go visit different daycares and ask questions to help you decide which one will be best for your pup! Also, ask for a tour of the facility. If you visit a place that won't show you where the dogs play or are supervised, then I would not take my dog to that facility."
First-Time Doggy Day Care Date? Don't Worry!
Drury offers a solid piece of advice. "Try not to worry so much about your dogs having fun on their first day! Most of the dogs that come to our daycare to play usually jump right in to play with group of dogs and have no trouble at all joining the pack." Another great tip Drury shares is that she also groups the dogs "according to similar size, age, and temperament." She notes that sometimes a shy dog will show up at daycare and that it just takes time, just a few days, to help them warm up and come running in when they return! 
Be Prepared for the Application Process
As a doggy daycare owner and dog mom herself, for new clients, Drury requires "the owners to fill out an application, proof of vaccinations for rabies, distemper, and bordetella (kennel cough). Our first day is free so that lets me determine if their dogs will be happy playing and socializing at our doggy daycare. My two Labs meet and greet the new dogs when they arrive, and we both can usually tell pretty quickly how well their first day will go."
Dogs' Safety is Key
Drury has been in the doggy daycare business for more than 20 years and her clients at the daycare range from puppies to seniors. "When I meet a new dog that comes in to visit our facility, I can usually tell pretty quickly if they will do well at our doggy daycare. The safety of the dogs under our care is the most important piece of my business. We are there to provide a safe, happy, fun environment for all of the pups and dogs. So, that is what we strive to do each day, to send home a very tired, happy dog back to their owners. You know the dogs have had a good day when their owners come to pick them up and they just want to keep playing!"
Special Needs Dogs Need Daycare, Too
Drury is familiar with dogs with special needs, and occasionally will have one visit her daycare, including a couple of Epi-dogs (epileptic dogs). Her own boy, the late Manilow (who the business is named after), was diagnosed with Canine Epilepsy at age six after a bout of seizures When a dog with special needs comes in, Drury says she makes sure her staff and volunteers are privy. She also gets permission from the owners to seek any necessary veterinary care with their own emergency vet. "We notify the owner whenever their dog's health is a problem or if something unusual occurs with their pup. The health and well being of each dog under our supervision is most important to us."
A Picture is Worth A Thousand Words
Just as Manilow's Canine Playground has a community Facebook page and Instagram account, where Drury shares photos of her two Labs, along with some of the special fun adventures at her place, a good tip when contemplating a daycare center for your dog, is to check out the facilities' social media pages to see the photos, read other people's comments, and get a feel for whether or not that is the place for your dog to go. Then, go make an appointment and see the facility for yourself, ask if you can bring your dog, and meet the staff who will be entrusted with the care of your furry best friend.
Headed to Daycare?
Once you've found a facility that checks all of your boxes and feels like a good fit for you and your pup, all that's left to do is drop off your furry friend! Don't forget to install your 4Knines car seat cover before loading fido into the car. 4Knines dog car seat covers protect your seats from drool, nails, and fur. Best of all, they install in seconds so you don't have to worry about fido being late for his first day! Here is my 4Knines affiliate link.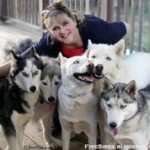 Dorothy Wills-Raftery
Dorothy Wills-Raftery is an award-winning photojournalist and author of 
EPIC Dog Tales: Heartfelt Stories About Amazing Dogs Living & Loving Life With Canine Epilepsy
; the FiveSibes™ Tales children's books:
What's Wrong With Gibson? Learning About K-9 Epilepsy 
and
 Getting Healthy With Harley: Learning About Health & Fitness
; and 
Buddy, the Christmas Husky~Based On A True Holiday Miracle books
(
ArcticHouse Publishing
), as well as the 
FiveSibes.com
, an online encyclopedia for the Siberian Husky breed and Canine Epilepsy information, as well as her international award-winning 
FiveSibes blog
, based on the lives of her five Siberian Huskies. Her work has also appeared in American Pet Magazine, Ruff Drafts, The Sled Dogger, and Hudson Valley Paw Print Magazine. Dorothy is the writer and host of
"The Sibe Vibe" Dog Works Radio show
.
Dorothy is a 9-time Dog Writers of America Association "Excellence" nominee, winning the prestigious Maxwell Medallion in 2017 and 2016 for her writing, photography, and design. Her book
EPIC Dog Tales: Heartfelt Stories About Amazing Dogs Living & Loving Life With Canine Epilepsy
received the 2018 Independent Press Award for "Excellence" in the Reference Book category and 2017 NYC Big Book Award for "Excellence" in the Animal/Pet book category. Dorothy was also named "Best Author" in 2015 & 2016 by
Hudson Valley Magazine 
and all four books named "Best in Print" by 
American Pet Magazine
, An official International Purple Day® for Epilepsy Ambassador since 2012 and a volunteer case manager for The Wally Foundation-Canine Epilepsy, Dorothy is the creator of the FiveSibes
#LiveGibStrong K-9 Epilepsy Awareness
 campaign and partnered with The Anita Kaufmann Foundation for
#Paws4Purple Project
, both inspired by her own epileptic Husky, Gibson. In addition to her Siberian Huskies, Dorothy shares her home­ with her husband, daughter, son-in-law, and grandson. You can follow Dorothy and her FiveSibes on Facebook at 
FiveSibes: Siberian Husky K9 News & Reviews
, on 
Google
+ 
, 
Twitter
, and 
Instagram
(@FiveSibesMom).