Why Holistic Care Could Be A Good Option For Your Dog
By Dorothy Wills-Raftery
"Food and shelter are only the beginning of the animal steward's moral obligations. We owe our animals a good and meaningful life."
- Jon Katz
Your dog has been experiencing some health and/or mobility issues. Maybe s/he is a senior dog with arthritis, or a younger dog who is displaying soreness in certain areas, or maybe has been diagnosed and being treated for epilepsy (Epi-dog). Are there additional ways to help your dog in addition to the traditional standard veterinarian methods?


Yes.


Having five Siberian Huskies, I have had times where my dogs required additional "help" in addition to their standard veterinarian care. My FiveSibes veterinarian team was top-notch. They treated my dogs with the utmost care and love and were always open to conversations with me about introducing alternative or holistic therapies that I believed my Huskies would benefit from. As a result, I've seen firsthand what adding some of these holistic treatments can positively do for a dog's overall wellbeing.
What exactly is holistic care?
According to the American Holistic Veterinary Medical Association (AHVMA), "Holistic veterinary medicine is a form of healing that considers the whole patient–body, mind, and spirit–in its approach to achieving optimum health and eliminating the root causes of disease. The holistic approach is gentle, minimally invasive, and incorporates patient emotions and well-being. Holistic thinking is centered on love, empathy, and respect."
Some folks may balk at the thought of holistic care and think that it is simply giving an animal some funky crushed up berries and leaves. That's a fallacy. In actuality, a holistic vet can a) discuss your dog's case with your current vet, and b) work with a combination of traditional and holistic healthcare methods. Notes the AHVMA, "Holistic veterinarians often seek to blend standard therapies, such as drugs and surgery, with holistic methods. Holistic veterinarians stay current on the latest advancements."
What types of care is considered holistic?
There are some wonderful therapies that under a veterinarian's care you can opt to add your dog's healthcare program, including (in no particular order):
Massage

Acupuncture

Chiropractic 

Cold Pack Therapy (for Epi-dogs)

Aroma Therapy (Essential Oils* & Plant Essences)

Nutritional/Dietetic 

Homeopathic

Physical Therapy

Hydrotherapy
*Note: Some essential oils can trigger seizures in dogs with epilepsy. As always, consult your vet before introducing anything new to your dog.
Does it really help?
It can help. As with most things, there is no guarantee that a holistic treatment or a combination of holistic and standard traditional treatments will work for your dog. But it's great to have a natural option to add to your dog's care program. 
In treating my one dog who had epilepsy, I consulted with my vet team about adding some holistic therapies as he was already on much-needed anti-seizure medications. I was relieved we were able to add some alternative treatments that did not put more medication into his already much medicated system. Additions of massage, acupuncture, cold laser therapy, nutrition/diet (including supplements and vitamins), and Reiki were wonderful additional modalities I added to help with his overall health and to offset some side effects from the medications he was on. I also used some of these natural treatment methods for a few of my other Huskies for arthritis, hind leg weakness, and cranial cruciate ligament post-surgery care.
Talk with your dog's veterinarian.
When considering adding a holistic therapeutic tool to your dog's care, first have an in-depth conversation with your veterinarian to see what s/he thinks of adding holistic treatments to your current regimen. You can also reach out to consult a holistic veterinarian to share your dog's health records with, consult with your own vet, and to conduct an examination of your dog.
How to find a holistic vet in your area?
Ask your current veterinarian for a reference, or use the AHVMA's VetFinder HERE. 
Did You Know?
You could win a $50 4Knines Gift Card simply by submitting a photo of your dog using a 4Knines product! And there's so many awesome products to choose from!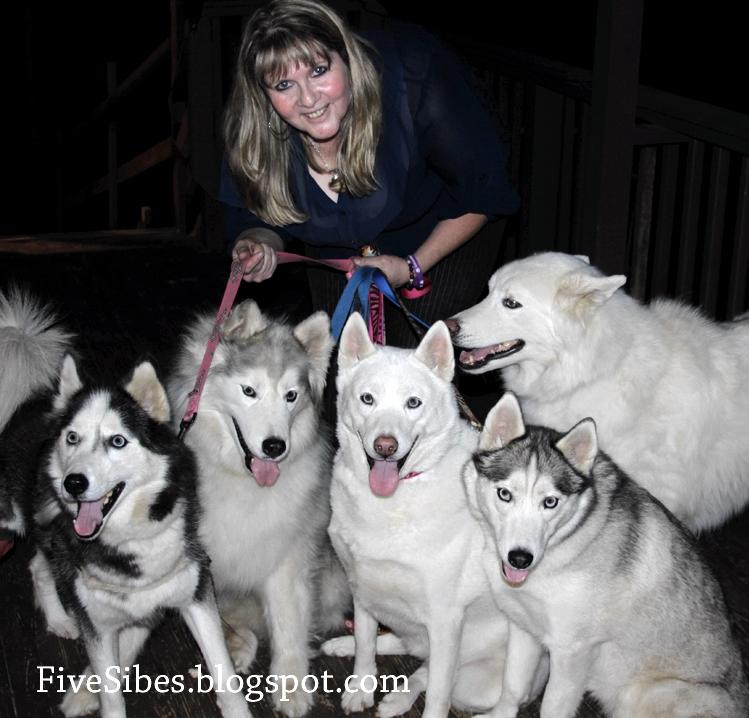 Dorothy Wills-Raftery is an award-winning photojournalist and author. Her canine books include EPIC Dog Tales: Heartfelt Stories About Amazing Dogs Living & Loving Life With Canine Epilepsy; the FiveSibes™ Tales children's books: What's Wrong With Gibson? Learning About K-9 Epilepsy and Getting Healthy With Harley; and Buddy, the Christmas Husky~Based On A True Holiday Miracle (ArcticHouse Publishing). Her internationally top blogsite is FiveSibes™ , based on her five Siberian Huskies, and includes an online encyclopedia for the Siberian Husky breed. 
Her work has also appeared in Chicken Soup for the Soul & Rosie the Riveter book series, Woman's World Magazine, AmericanPet Magazine, American Dog Media, Ruff Drafts, The Sled Dogger, and Hudson Valley Paw Print Magazine. Dorothy has been awarded the prestigious Maxwell Medallion by the Dog Writers of America Association for "Excellence" for her writing, photography, and fiction. Her book EPIc Dog Tales: Heartfelt Stories About Amazing Dogs Living & Loving Life With Canine Epilepsy received the Independent Press Award for "Excellence" in the Reference Book category and the NYC Big Book Award for "Excellence" in the Animal/Pet book category. She was named "Best Author" by Hudson Valley Magazine and all four of her books were named "Best in Print" by AmericanPet Magazine.
An official International Purple Day® for (K9) Epilepsy Ambassador since 2012 and a volunteer case manager for The Wally Foundation-Canine Epilepsy, Dorothy partnered with the nonprofit Purple Day® Every Day presented by The Anita Kaufmann Foundation for her #Paws4Purple initiative, and she created the #FiveSibes #LiveGibStrong K9 Epilepsy Online Resource Library—all inspired by her epileptic Siberian Husky, Gibson, in order to help other Epi-dog families find accurate information to help their Epi-dogs.
You can follow Dorothy and her FiveSibes stories on the FiveSibes™ blog and on Facebook at FiveSibes: Siberian Husky K9 News & Reviews, and on Twitter and Instagram (@FiveSibesMom).