Mutt Love! 10 Reasons Why We Love Mixed Breeds
July 31 is National Mutt Day!
It is no secret that people love to show off their dogs. Especially those with registered purebred pooches. And hey, there's nothing wrong with that, but what about the mixed breeds?
Let's take today to highlight those mutts, and go over my top 10 reasons why we love mixed breeds! 
1. They Are Unique
No two mutts are the same. When a purebred dog has pups, generally the pups will all be similar in appearance. That being said, there are some beauties that break the mold, but when you adopt a mixed breed, they are unique all on their own.
2. You Won't Have to Look Far
 When you are trying to find a specific breed, you might end up on a waiting list that you simply didn't want to be on. When looking for a mixed breed, traveling to any shelter will most likely give you the result you were looking for. Shelters and rescues are filled with mutts awaiting their fur-ever homes. While they do have purebred dogs come in looking for homes as well, they tend to be the ones who are adopted out first.
3. Arguably, Mutts Tend to Be Healthier Than Purebred Pooches
 This is said due to the fact that mutts have much less of a chance to inherit breed specific genetic disorders.
4. The Best of Both Worlds – or Multiple Worlds
 When you adopt a mutt, you are not just getting the temperament and appearance of one breed such as you would with a hardwired purebred. You are getting a wonderful mix of breeds all in one cute fluffy bundle!
 Most people believe that you have to have a purebred dog in order to register him/her as a service dog. And while that used to be true. Times have changed and your awesome mutt can do just the same!
6. Mixed Breeds Can Be Full of Surprises! 
There are some mixes where you are able to know exactly what breeds your dealing with. But some will remain a mystery. Often times, people like to attempt a DNA test to find out what their pup is, however keeping it a mystery can be fun too.
7. It Is Commonly Mistaken That You Have to Have a Purebred Dog in Order to Compete in Agility Competitions or What Have You
This again, is simply not true. You can bring your talented mutt to the shows as well!
8. Mutts Can Do Anything a Purebred Dog Can Do
You might think "well my dog isn't a purebred Labrador, so he might not like water as much." Not true. Or how about your mixed Chesapeake Bay Retriever? You don't think he will be able to hunt as well as a purebred Chesapeake? Think again! Give your mutt a chance, he might just surprise you.
9. Split Personality?
Not quite, but as mentioned in #6 – mutts can definitely be full of surprises. Will your mutt have a temperament mixture of each breed he was mixed with? Or will he have a unique attitude all on his own?
10. Last but Certainly Not Least – if You Are Adopting a Mutt From a Shelter, You Are Saving a Life 
That alone is self explanatory.
All dogs in my opinion deserve the same love, attention and respect as one and other. Purebred, mutt, whatever pooch shares your home and your heart.
Your turn! Mutt or purebred? Which one(s) are YOU owned by?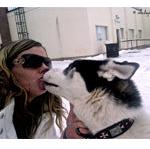 Jenna Drady is the author and creator of ownedbyahusky.ca. She is a mother of two beautiful daughters and 3 Siberian Huskies. Being a husky mom for a long duration of her life, Jenna was inspired to begin writing about them. In doing so, she began doing massive research on dog behavior, and all things dog in general. Jenna is inspired every day by her family, and loves to bring her readers valuable information as well as a little humor too! Jenna has created her own business partnered with her lovely mother while blogging called Pawz N Clawz Jewelry N Things. They currently sell handmade jewelry with added pet charms, as well as a few dog toys too! As an animal rights activist, and huge believer in helping pets who have been stuck in shelters, they donate a portion of their sales to local shelters throughout Canada.