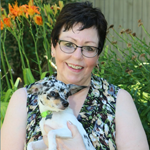 Linda Hempler
Along with my years of experience, I work closely with others in the pet community and with experts in training. I have volunteered at our local shelter in several departments, including working with the training team.I now work part-time at a Veterinary Hospital.
I am very passionate about all dogs' overall health, physical, mental, and emotional, with a special emphasis on the Chihuahua breed.
Pamela Schmidlin
CDT, CHHC, Published Author "Get Your Leash On!"
I am a dog trainer and health coach for teams of people and their dogs. I am the author of "Get Your Leash On!" which is a guide to living a happy and healthy lifestyle with your dog. Knowing how to train with your dog to do basic dog training behaviors, and how to SAFELY train with your dog to get moving is important to a longer and happier life together, combining that with healthier ways of eating as a team. Cooking once for your dog and yourself instead of making two meals is less time consuming and more fun! I share my life with four dogs, I call them my 4 American dogs. Scout and Liberty are my two American Foxhound "mixes" (although if you ever heard their bay/ howl you'd drop the "mix" as well). They came to me via way of the Smithtown Hunting Club (who uses American Foxhounds in their events) and Kent Animal Shelter. Then there is Freedom- my Shepherd Mix who thinks she is Scout's mini me- and then finally Justice, who is my GSD. We typically run anywhere from 3- 6 miles a day together. I one day hope to become the internet's go-to dog-and-human-team health coach so I can help teams live together longer, changing the world around us to be that much better. Can we elect a dog in office one day? LOL!
Course Link:
Corey Rametta

Corey has been hand-crafting custom leather dog collars and leashes since 2012 at
www.genuinecollars.com
to satisfy the need for high-quality accessories for our canine friends.
Olivia Harper
Olivia Harper is the co-founder of the blog
Daily Dog Stuff
. She is a reserved and passionate pet parent who loves to spend time with her Sibe, who keeps her active and social. Read more of her guides and tips by visiting the blog or following their page
@dailydogstuff
.
Alistair Thompson
Alistair is a journalist by trade currently learning the ropes in Medellin, Colombia. Although the football to futbol transition is off to a rough start, the rest of the equation is balancing out well. If he wasn't an
AllTheRooms
content writer, he would almost certainly be neck-deep in the Medellin reggaeton scene.
Lindsay Pereira
Lindsay Pereira is a pet-lov'in Montréal-based writer who's a "mommy" to Maya, a sweet-tempered senior Labrador/Rottweiler and Muffy, a grumpy guinea pig with a serious attitude problem. She writes about pets at
Animallama.com
.