How to Properly Board Your Dog
As dog owners, we always want to be right by our best friends
. However, there's a very good chance that you'll sometimes 
need to leave your dog behind
 while you travel. This is a disappointing reality, but shouldn't be scared by any means!
There are
two main steps to properly boarding your dog while you're away
. The
first step
is finding a reputable and knowledgeable boarding facility, and the
second step
is preparing your dog for boarding. Neither of these steps is difficult, but you should definitely
know how to appropriately go about them
!
Finding The Boarding Facility
First of all, you'll want to find a boarding facility that you feel is k
nowledgeable and a safe place to keep your dog
. You can easily find a great facility by
doing a bit of research
and talking to them!
Dog boarding facilities that are close to you can easily be found with a quick Google search. Many facilities will have
ratings by previous dog owners
that kept their dogs there, so this is a great jumping-off point for doing further research. Once you've found a few reputable-looking boarding facilities, it's time to call them up. There are a
few details that you'll want to find out before putting your dog in their care
.
Where Is My Dog Staying?
Learning about where your dog will be spending their time is very important
. Ask if you can take a
tour throughout the facility
and see where the dogs are kept. Check to make sure that the facility is
clean, secure, and would be comfortable for your dog
. One thing to note is that facilities with crates may be fine for dogs that are
crate-trained
, but they could cause anxiety in dogs that haven't been exposed to cages like that. If your dog can't handle cages well, look for a facility that offers individual rooms for dogs instead of cages or kennels.
What's The Feeding Schedule?
You may not put a lot of thought into your
dog's diet
while they're boarded, but
it's very important that virtually nothing is changed with their diet
. Changes in a dog's diet can cause stress that can result in vomiting, diarrhea, and a bad demeanor overall.
Make sure that you can bring your dog's normal food
, and also be sure that they can be
fed around the times that they're used to
eating at. Some dogs don't eat well in strange places, so bringing a tasty additive for the food can be a smart choice.
Will My Dog Get Exercise?
Boarding facilities differ greatly in how much exercise their dogs get.
Some facilities let the dogs run around for a few minutes a couple times a day, and others extensively walk dogs several times a day in addition to a play area. It's up to you to find a
facility that matches what your dog
is used to, as variance from their normal routine may cause distress.
Is There Interaction With Other Dogs?
There are some facilities that allow dogs to play together during their exercise time. This can be very
stimulating and fun
for some dogs, but it
can be risky for others
. If some dogs don't get along, fights could ensue, and this obviously needs to be avoided.
Find out what the facility's policies are regarding play time
and make sure that it's safe for your dog, whether they're the aggressor or the timid one.
What Happens In The Case Of An Emergency?
A good facility keeps a watchful eye on the well-being of its furry guests
. During a dog's stay, it's common to
keep track of their bathroom usage, food and water intake, and playtime
in addition to their overall well-being. If a dog ends up sick, you'll want to make sure that there's a system in place to get that dog the care that they need. Additionally, if your dog has any special medical needs, you should make these known as soon as possible with no details left out.
How Much Will This Cost?
The cost of boarding your pup is obviously a
very important aspect to consider
! In a straightforward way, ask about the
nightly price
for boarding your dog and see if there's any
hidden fees
for any of your dog's special considerations. Getting a cost written down for you is an
excellent way to make sure that you don't get taken advantage of
.
Preparing To Board Your Dog
Once you've found a kennel that checks all of your boxes, it's time to prepare!
There are a few things that you need to get done and be sure of before your vacation time comes.
Book your dog's reservation as soon as possible

. Trying to book your dog last-minute could result in much higher prices or, more likely, no openings in the first place!

Ensure that you have all of your dog's special supplie

s, such as their food, medication, and care instructions that the carers need to know.

Compile an emergency contact list

for the boarding facility. This should include your contact number, in addition to the number of a family member or friend that lives near the kennel.

Pack only the essentials

. Many boarding facilities place a limit on the amount of supplies that you can bring along with your dog.
Conclusion
If you've gotten this far -- relax! You've done your research and ensured that the facility you're trusting with your pup will take excellent care of them.
Just make sure that you give your dog a big squeeze before you head out on your vacation
.
If boarding doesn't seem right for you and your dog, there are other alternatives
. You could either leave your dog home and pay somebody to check on them and feed them daily, or you could board your dog with a family member or friend.
Dog boarding is a very safe, stress-free, affordable solution
that you definitely shouldn't be scared to try out, though!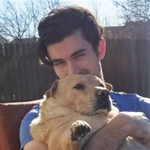 Zach David
Zach is a life-long pet owner and enthusiast. He was born into a family with a dog named Murphy, and since then has owned several other dogs, mice, ferrets, fish, geckos, and a cat. This experience has given him the knowledge necessary to help others become excellent pet owners on his website Beyond The Treat with detailed gear, housing, and feeding guides for all pets.