How to Introduce Your Dog to New People

How to Introduce Your Dog to New People

If you've ever owned a dog who is anxious around new people, you've probably experienced some anxiety yourself when making an introduction between your dog and an unfamiliar person.

If you've ever owned a dog who is anxious around new people, you've probably experienced some anxiety yourself when making an introduction between your dog and an unfamiliar person.

When you think about it though, it's understandable from your dog's perspective. I don't know about you, but I would be pretty uncomfortable with a person I don't know, who is 3 times my size (or more!), reaching out to touch my face!

Some dogs take longer than others to feel comfortable with new people. Get to know your dog's body language and temperament so that you never put your dog or another person in an uncomfortable, or even dangerous, position. Whether your dog loves new people, runs away, or can seem unpredictable, here are three steps to follow when introducing your dog to a new person, and signs to look out for that could indicate that they are feeling uncomfortable.
1. Give Them Time to Get Comfortable

Have you ever noticed that dogs seem to LOVE people who ignore them (and might not even like dogs!)? There's a reason for this!
When someone new is meeting your dog the very first thing you should instruct them to do is ignore your dog entirely. For us dog lovers, this can feel like it goes against all of our natural instincts that make us want to love on them and say hello!
Remember though that to your dog, direct eye contact, showing your teeth, and reaching over their head are all signs of dominance. Although we might not think about it-- each of these are things we humans tend to do when saying hello to a new dog.
Instead of reaching out right away, the unfamiliar person should be asked to ignore the dog. Don't look at it, reach out to pet it, or crouch down to "get on their level". While ignoring the dog, allow him to sniff out the new person until his body language tells you that he is feeling comfortable. For some dogs, this happens in a matter of seconds. Other dogs may need several minutes before they decide someone is okay.
2. Start Slow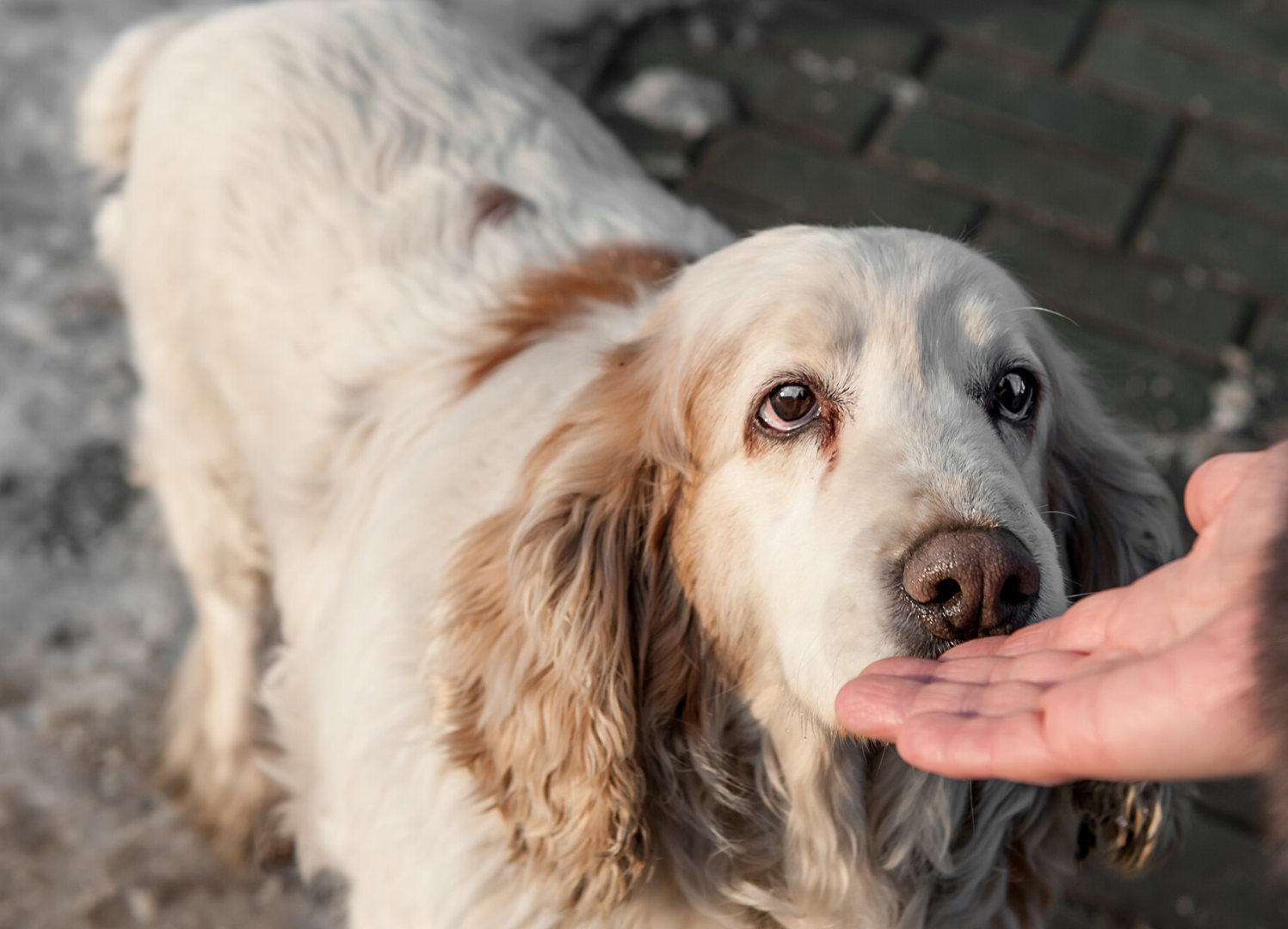 Once your dog's body language has told you that they are feeling relaxed and comfortable, let the new person know that it is okay to pet the dog. Be sure you stay close and watch the interaction for any signs of discomfort.

First, the new person should offer their hand to the dog for a sniff by turning it out towards the dog, but without reaching towards them. If your dog seems to be okay, let the guest know that it is okay to pet your dog. 
Remember, reaching over a dog's head is a sign of dominance in the canine world. Instead, they should be asked to pet the dog's chest, side, or back by reaching under or around their head, rather than over it.
3. Stay Close

Your dog trusts you! If they start feeling uncertain, they may look to you for reassurance that this unfamiliar person is okay to be near you or in your home. Be sure to stick around or have your dog follow you when you leave the room for the duration of the initial visit.
Watch your dog and be mindful of any sudden shifts in attitude or body language. You know your dog better than anyone and will likely be able to spot any discomfort before an incident can happen. 

If you suspect your dog might be starting to feel uncomfortable, let the guest know and ask them to give your dog some space by going back to ignoring them.
Tell-Tale Signs of Canine Discomfort
Dog bites rarely happen without warning. Those that seem to happen out of the blue are often the result of signs of the dog's discomfort being ignored or happening very quickly. 
In any situation, watch for these tell-tale signs that your dog might be feeling uncomfortable:
Yawning
Lip licking
Whale eye (dog turns head away, but keeps eye on what he is watching, so that you see the whites of his eyes. This is a sign of stress that should get a reaction from you immediately)
Drooling
Lack of focus
Hackles are raised
Head turn or averting eyes
Panting
Shake off (like what they do after a bath)
Tucked or slow wagging tail
Pinned ears
Holding his breath
Avoidance
Growling
If you notice your dog exhibiting any of these behaviors, act quickly by intervening in the interaction. Ask the unfamiliar person to give your dog some space and try again.
Final Words
Like people, every dog is different. Some may love every person they meet, while others may be wary and take time to warm up to unfamiliar faces. No matter what, the most important thing is that you and every person who interacts with your dog respects them and listens to their non-verbal cues.
And remember, if you're headed out somewhere fun to meet some new faces be sure you install your 4Knines Seat Cover beforehand. These rear seat covers install in seconds and protect your car from fur, nails, mud, and pretty much anything else!
:|zpendofcontent|: