How to Avoid Danger at the Dog Park
Are Dog Parks Safe? While some dog parks may have a positive effect on dogs, there are others that pose many risks to not only your dog but to you as well.
Dog Park Pros and Cons

Many professional dog trainers and behavior specialists caution about the dangers of dog parks.

Pros:
Provi

ding a fenced in place to run and release energy

Allowing your

dog to play

off-leash

Cons:
Aggressive Canine Behavior from other dogs
Lack of Training
Off-Leash Dogs
No Dog Size Separation
Dog Park Rules Not Enforced
Contracting Diseases
Spreading Parasites
Injury or Death
The Dangers of Dog Parks

1. Aggressive Canine Behavior from Other Dogs:
Your dog may love to play with other friendly dogs, but there are dog bullies out there too. You don't want your dog to feel unsafe in a hectic environment.
Various dogs have different play styles that may not be compatible with your dog.


2. Lack of Training:
Dog Parks aren't the place to train your dog. Unfortunately, in-experienced dog owners bring untrained dogs to the park and expect them to know how to play and socialize properly. That can pose a danger to your pup.


3. Off-Leash Dogs:
Your dog and other dogs will be leash-free! You must be comfortable with your dog running off leash, collar-free, and harness-free in a large pen of other leash-free dogs.


4. No Dog Size Separation:
Some dog parks allow all dogs of all sizes to play in the same area.
5. Dog Park Rules Not Enforced:
Most Dog Parks have rules that are posted for owners to read prior to entering the park. But, it is up to you, the dog owner, to abide by these rules because most dog parks don't have any staff keeping watch over the dogs.
6. Contracting Diseases:
Some dog owners do not vaccinate their dogs. Many dog parks are open to everyone, even the sick, diseased, and the ones that have ticks and fleas.
7. Spreading Parasites:
Dogs will poop in the dog park! Whether your pup eats another dog's poop or just steps in it and licks his feet later, he can get a nasty parasite! (Ringworm and Hookworm).
8. Injury or Death:
Are the dog owners watching their dogs attentively? Nowadays, we have so many digital distractions at our fingertips, it is easy to miss the beginning of a dog fight that could have been prevented. So many dogs have been seriously injured or killed because of the lack of attention on the dog owner.


Before Entering the Dog Park
Prior to taking your pup to the dog park, take a few walks past the dog park to get a feel for the type of dogs and people that are spending time there. Ask yourself the following questions before jumping in:
Are there any dogs bullying other dogs?
Are the dog owners watching their dogs attentively?
Do some dogs have personal toys that may cause conflict with the other dogs?
Are there a lot of intact (not neutered) male dogs?
Is there a separate area for the smaller dogs to play?
Is the Dog Park Gate strong and secure?


Warning Signs of Aggressive Behavior in Dogs
If you notice any of the following behavior surrounding your dog, try to safely remove them before anyone gets hurt.
Direct eye contact
Ears Pinned back
Raised Hair on Back and Neck
Stiff Body Posture
Growling
Baring Teeth
Lunging
Dog Park Alternatives
Doggie Playdates

:

Arrange small group play dates with dogs that are friendly and healthy.
DoggieDaycares

:

Facilities that are monitored by trained professionals that will watch over your pup's behavior and enforce the rules.
Private Dog Parks

:

Private parks have staff that closely monitor the dog's activity, enforce the park rules, and can assist with any issues that may arise.  Some even require registration, and ID tags for all who would like to attend. 
Dog Parks May Not Be Appropriate For Your Dog
Even the most well-trained dog can experience a setback with one bad incident at a dog park. Dog Parks can be crowded, unpredictable, and dangerous.
Always be aware of your dog's surroundings and keep your dog safe.
Have you decided that your local dog park is a safe place for your pup to play? That's great!
Before heading over to the park with your dog in the car, be sure to have your car seat cover in place. 4Knines dog car seat covers protect your seats... not only from fur and nails, but from any mud that your pup might try to bring home from the park!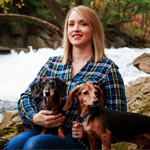 Ava Jaine

Ava is a Pet Blogger and Fur-Mom of two Miniature Dachshunds(Reno and Bastian).  Ava is on a mission to provide helpful resources to assist dachshund owners through their journey of raising and owning this special dog breed. She is the proud owner and author of Dachshundstation.com