For the Love of Dog Biscuits!
February certainly is a busy month! With keeping Cupid busy with sharing love and Valentines,

did you know it is also a tasty month for our furry best friends, too?

It sure is! February 23 is International Dog Biscuit Appreciation Day!
I can hear all the happy, drooling dogs smacking their lips right now in anticipation for their favorite treats, can't you?!
One of the many ways we can
show our love for our dogs is by offering them some delicious, wholesome dog biscuits
. But, with all the dog food and treat recalls,
how is a dog parent to feel secure about the treats they are giving their dogs?
1. Read the ingredients list.
If there is an
ingredient listed you can't pronounce
, or would not eat yourself, or
not sure of its origin, then do not feed it to your dog
.
2. Research the company.
Stick to companies
you have been getting your dog treats from and trust. If it is a company new to you, do your homework!
Research the company
, check online for reviews, and ask your vet, dog parent friends, rescue staff, breeder, and online canine groups for their opinions and experiences with the biscuit brand.
3. Subscribe to the Dog Food Advisor for Recall Alerts.
You can also go to their the
Dog Food Recalls section
on their website and type in "dog treats" in the search bar for a list of any/all dog treat recalls.
4. Check out TruthAboutPetFood.com
You can check on
dog treat recalls
on their Recall tab, and also by typing in "dog treats" in the search bar. They also offer a
newsletter you can subscribe to for recalls and information
.
Under the
Animal/Veterinary section
, review items under the Recall tab, and also check their
Dog Food tab
for a
list of any treats that are being recalled and why
.
6. Make homemade dog biscuits!
As simple as whipping up a batch of cookies for your human family, baking dog biscuits and treats are a cinch to make, and
there are oh-so-many tasty recipes to try out
! There are
many dog biscuit recipe books
for you to peruse, as well as some fabulous websites. A quick Pinterest search gives you more recipes than you could ever try!
7. You'd love to give homemade, but don't have the time.
Then check out
Sassy's Goodies
! All their treats,
Pup-Cakes, and PupPops
are hand-crafted to order, and are gluten-free, with no preservatives, salt, soy, or sugar added. Plus, their
"Gib Nibs"
– crunchy biscuit squares
made specifically for dogs with Canine Epilepsy
(and named after my K9 Epilepsy Ambassadog, Gibson of the FiveSibes).
Sassy's Goodies will also donate a portion of sales of Gib Nibs to The Wally Foundation
~Canine Epilepsy, a non-profit organization that offers
possible financial assistance
for epilepsy anti-seizure medications to families, fosters, and rescues of dogs diagnosed with
idiopathic epilepsy
.
So, when
Valentine's Day
rolls around,
why not fill a giant red heart-shaped goodie box for your beloved dog(s) with lots of biscuits and treats
you know they will love and you can feel good about giving!
Bon(e) Appetit!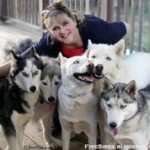 Dorothy Wills-Raftery
Dorothy Wills-Raftery is an award-winning photojournalist and author of 
EPIC Dog Tales: Heartfelt Stories About Amazing Dogs Living & Loving Life With Canine Epilepsy
; the FiveSibes™ Tales children's books:
What's Wrong With Gibson? Learning About K-9 Epilepsy 
and
 Getting Healthy With Harley: Learning About Health & Fitness
; and 
Buddy, the Christmas Husky~Based On A True Holiday Miracle books
(
ArcticHouse Publishing
), as well as the 
FiveSibes.com
, an online encyclopedia for the Siberian Husky breed and Canine Epilepsy information, as well as her international award-winning 
FiveSibes blog
, based on the lives of her five Siberian Huskies. Her work has also appeared in American Pet Magazine, Ruff Drafts, The Sled Dogger, and Hudson Valley Paw Print Magazine. Dorothy is the writer and host of
"The Sibe Vibe" Dog Works Radio show
.
Dorothy is a 9-time Dog Writers of America Association "Excellence" nominee, winning the prestigious Maxwell Medallion in 2017 and 2016 for her writing, photography, and design. Her book
EPIC Dog Tales: Heartfelt Stories About Amazing Dogs Living & Loving Life With Canine Epilepsy
received the 2018 Independent Press Award for "Excellence" in the Reference Book category and 2017 NYC Big Book Award for "Excellence" in the Animal/Pet book category. Dorothy was also named "Best Author" in 2015 & 2016 by
Hudson Valley Magazine 
and all four books named "Best in Print" by 
American Pet Magazine
, An official International Purple Day® for Epilepsy Ambassador since 2012 and a volunteer case manager for The Wally Foundation-Canine Epilepsy, Dorothy is the creator of the FiveSibes
#LiveGibStrong K-9 Epilepsy Awareness
 campaign and partnered with The Anita Kaufmann Foundation for
#Paws4Purple Project
, both inspired by her own epileptic Husky, Gibson. In addition to her Siberian Huskies, Dorothy shares her home­ with her husband, daughter, son-in-law, and grandson. You can follow Dorothy and her FiveSibes on Facebook at 
FiveSibes: Siberian Husky K9 News & Reviews
, on 
Google
+ 
, 
Twitter
, and 
Instagram
(@FiveSibesMom).