December 2018 Charity Spotlight: America's VetDogs
Who can forget the
iconic photo of President George HW Bush's service dog, Sully
, faithfully lying beside the president's casket?
This picture beautifully
represents the mission of America's VetDogs to help those who have served our country honorably live with dignity and independence
.
Sully
was specially trained and specifically matched to provide support and companionship to the former president in his daily activities.
America's VetDogs created its service dog programs to
help provide renewed independence and enhanced mobility to veterans, active-duty service members, and first responders with disabilities
. Dedicated to America's heroes, VetDogs is honors the sacrifices made by the men and women in uniform and continually strives to ensure they receive the tools needed to once again be self-reliant.
A well-trained service dog provides motivation to tackle everyday challenges by supporting daily activities
. VetDogs trains and places dogs with individuals who have
unique needs and challenges
.
Hearing dogs

for those who have lost their hearing

Service dogs

for those with physical disabilities  

Physical and occupational therapy dogs

to work with amputees in military and VA hospitals

Combat stress control dogs

to be deployed in theater

PTSD service dogs

to help mitigate the effects of post-traumatic stress disorder
Push. Tug. Brace, Retrieve
. These are the
four foundations of service dog training
tasks. There are over 200 tasks that service dogs can be taught based on these foundations. Once a VetDogs' client is matched with a dog, instructors
customize training to meet that specific client's needs
. Tasks include providing balance and stability, opening and closing doors, retrieving a variety of items, turning on and off lights, alerting for seizure responses, and assisting with vision and hearing needs.
From WWII veterans to more recent conflict veterans, America's VetDogs clients share
one common goal: to live without boundaries
. Approved applicants travel to
VetDogs' Smithville, NY facility
to participate in a two-week in-residence training program. Using a meticulous curriculum and innovative methods, certified trainers provide individualized training to ensure students and dogs bond and learn how to
work together as a team
.
America's VetDogs is a 501(c)(3)
not-for-profit organization
. It costs over $50,000 to breed, raise, train, and place one assistance dog, but all VetDogs' services are provided at no cost to eligible clients, with funding from generous individuals, corporations, foundations, businesses, and service and fraternal clubs.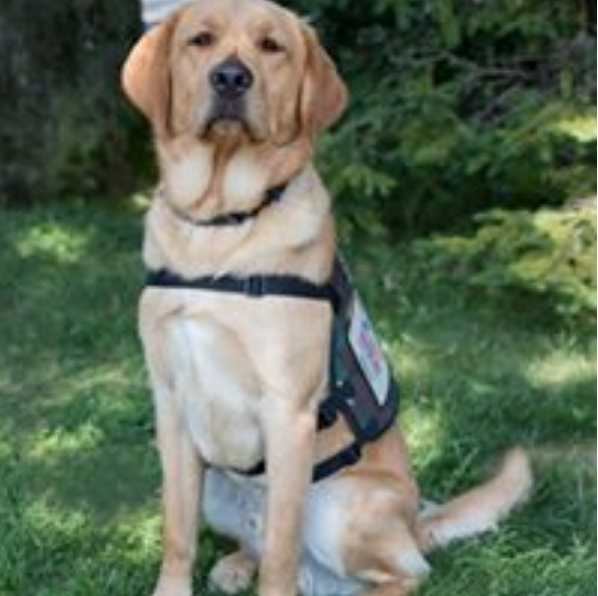 If you are wondering what is next for Sully, he enjoyed the holidays at America's VetDogs headquarters in Smithtown, NY
. After his stay, he will join fellow VetDogs facility dogs SGT Dillon and SGT Truman at Walter Reed Bethesda.
Sully's new mission
is to assist with physical and occupational therapy to wounded soldiers and active duty personnel during their journey to recovery.