5 Reasons Senior Dogs Rock & Ways to Keep Them Comfortable as They Age
Dogs are considered to be seniors when they reach the last 25-30% of their lives. Life expectancy varies by size, but the average age of seniors is 7-8 and up.
Senior dogs in shelters are more difficult to adopt out, but there are many reasons that seniors make wonderful pets.
1. Their Exercise Needs Are Reduced
Seniors still need exercise, but if you are not feeling well or just feeling lazy, your senior dog probably won't act out if they don't get their daily walk, run, or game of fetch. Walks can be shorter and more relaxing, and there is often much less pulling by senior dogs than their younger counterparts.
2. Because They Sleep Sounder and Deeper, Sometimes Due to Diminished Hearing, They Often Sleep Later!
3. All They Have Is Love and Companionship to Give
They are happy to walk, ride in the car, or just hang out in the kitchen with you. They just want to be with you and want to be by your side more. You know the saying "follows me around like a puppy dog?" Seniors often drop back to that same behavior. You will never be lonely.
4. They Are Far Less Destructive
We'd had puppies that chewed on walls and furniture, de-stuffed bed comforters, and if you have carpet that's where they usually choose to have their accidents. Our senior girl still likes to destroy toys, but she limits it to just that.
5. Those Sweet White Faces!! They Show So Much Character
In return for all that special love and companionship, there are many things we can do to help make them more comfortable in their twilight years.
1. Many Senior Dogs Have Joint Issues – Arthritis Is Common in Many Breeds.
Offering joint supplements (and there are many to choose from) can go a long way towards strengthening their joints. You can also discourage too much jumping by providing stairs or ramps to furniture and ramps to get into your vehicle (saves your back from helping them in too).
2. Another Thing We've Seen in Our Senior Dogs Is a General Weakening, Especially of Their Hind Legs
After checking with your vet to be sure there is nothing going on other than aging, there are things you can do to help them gain traction on slippery surfaces. We have mostly wood floors in our house; so we have added non-slip throw rugs in high traffic areas, and carpeted stair treads on our wooden stairs. There are also different types of booties you can use: for indoor use, there are non-skid socks (what I like to call "slipper socks"), and there are many rubbers and other types of booties for outdoor use. We also plan to try what is called "toe grips" on our golden retriever. Check your favorite pet supply store and you'll find lots of options.
3. There Are Orthopedic and Heated Beds for Senior Dogs
Just bear in mind that they still might prefer to sleep on the cold, hard floor; I don't know why. Many do love to sleep in front of heaters and wood stoves. We always have beds in front of the wood stove in the winter.
4. Keep Your Seniors as Active as They Can Be
Exercise is good for all of us, and even if they are just slow meandering walks, the stimulation of getting outdoors will do wonders for their hearts and minds. There are also many indoor games you can play with them to keep their minds active.
Senior dogs can get CCD (Canine Cognitive Dysfunction) which is similar to the human dementia or Alzheimer's. The good news is that there are treatments, and keeping your dog mentally active can help delay the onset. When our girls were just reaching their senior years, we got a puppy. This may not be appropriate for all seniors, or older seniors, but for us, it worked – the girls became much more active, and started acting like puppies at times themselves!
5. Very Importantly, Be Sure That Your Senior Pets Visit Your Veterinarian at Least Once or Twice per Year
Watch them for lumps and bumps and changes in appetite, and take them to your vet if you are unsure of anything.
With the proper care, hopefully, your senior pets will be around for a long time providing their special companionship and unconditional love.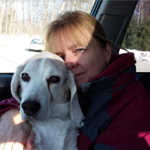 Jan Keefe
Jan Keefe works as a part time bookkeeper, though her passion is blogging about pets on the website she created, Wag 'n Woof Pets.   She formerly co-owned a pet sitting business, but writing has always been her dream.   Jan grew up with many cats, as well as rabbits and birds, and came to love dogs most of all later in life.  She enjoys writing about her family of pets which includes three dogs, Sheba, a golden retriever, Cricket, a beagle, Luke, a Labrador retriever mix; and one cat, Samantha. Her blog is about the joys and realities of life with pets, covering health, fitness, training and pet product reviews.