10 Effective Ways to a Peaceful Pack
Suppose you have two beautiful children, but to make your family complete, you decide to adopt two more. Now your family is complete and you imagine a
peaceful, harmonious family
where everyone
feels loved and safe
.
But, soon it's constant fighting and bickering and there is no peace in your home. The fact is
just like children, not all dogs will get along harmoniously together
. You may find that you constantly have to break up little squabbles between them.
Dogs are not human
. They are instinctual creatures.
They don't think the way we do
. So, even if we could reason with them,
all the reasoning in the world is not going to stop their bickering and squabbling
. Neither will punishment.
Dogs Are Still Pack Animals
Today's domestic dogs are far removed from their ancestral cousins, the wolf however, they remain pack animals. In a household, the dog(s) and the family members are all part of a pack.
Managing the pack is an art and a skill
.
Order of the Pack
You must become and remain "in charge" of the pack.
Problems within the "pack" can be anywhere from
simple disagreements to all-out serious aggression
. They almost always are about pack order, and jockeying for who is first.
Your job is to learn how to manage it
before it gets as far as blood-letting.
Begin by watching for those tense moments
when squabbles break out and learn how best to avoid them in the future.
10 Ways to a Peaceful "Pack"
1. Manage the Behavior
Use managing tools
, baby gates, indoor fences, crates, or leashes while teaching them
better behavior
.
2. Train
Training is extremely important
in a multi-dog family when the dogs don't get along. Always use
positive reinforcement rather than punishment
. If you don't know how to
train a dog
,
teach yourself how to train
(YouTube Is great!) or get help from a professional trainer.
3. Always, Always Remain Calm
Stress causes aggression in dogs.
Dogs sense your moods and read your body language
. If you remain calm at all times when around your dogs, it will relieve their stress and help them to remain calm.
4. See Your Veterinarian
Pain can cause stress.
If one of your dogs is in pain or is ill it will cause stress within the pack
. Anything you can do to
relieve your dog's stress
can help reduce aggression and maintain a peaceful household.
5. Let Dogs Be Dogs
It is best to just
let them settle their little disagreements among themselves
. This is normal and can help them to sort out hierarchy on their own. It's only when their squabbles become heated and the energy level rises that you should intervene.
6. Exercise
Exercise
relieves stress and pent up energy
. The less stress and the more tired a dog is the less tension there is among pack members.
7. Individually Bond With Your Dogs
Be sure to
spend quality time
alone with each dog while not in the presence of the other dogs. This will make it easier to
establish your place at their "leader"
and the one in charge of the pack and will help you to manage the pack when together.
8. Protect the Vulnerable
If one of your dogs is very young, old, sick, or disabled they are not going to be able to defend themselves from an aggressive situation. Keep them
separate from the more aggressive or "troublemaking" members of the pack
.
9. Holistic and Natural Remedies
Sometimes
holistic and/or natural remedies
to relieve stress are the best option. Keep in mind that even
holistic and natural calming remedies can have side effects
, so be sure to discuss this option with your veterinarian.
10.   Finally, You May Have to Be Realistic
If after putting real time and effort into the suggestions here and you still have an aggressive dog that constantly causes stress for you and the other dogs,
it might be best for everyone to place the dog in a loving home that has no other dogs
.  But, please,
never just dump the dog onto some unsuspecting person
. That will only lead to more behavior problems and possible
euthanasia
.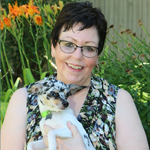 Linda Hempler
Along with my years of experience, I work closely with others in the pet community and with experts in training. I have volunteered at our local shelter in several departments, including working with the training team.I now work part-time at a Veterinary Hospital.
I am very passionate about all dogs' overall health, physical, mental, and emotional, with a special emphasis on the Chihuahua breed.